Welcome to Follow Friday!! This is a great event that happens every Friday to get more blog followers and to follow other interesting blogs.
It is all about sharing and having fun.
Here's how YOU can join the celebration:
* Link up your blog name and URL using the MckLinky below.

* Follow the Friday Follow hostesses. I will follow you back.


* Follow as many blogs as you like

* Comment on the blogs telling them you're from Friday Follow
* Follow back when you get a new follower through Friday Follow
Make sure that you leave me a comment on this post when you follow so that I can follow you!!
Thanks in advance for following and I look forward to finding some awesome new blogs!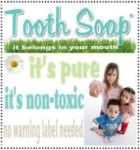 Check out our Friday Follow Sponsor & Giveaway!
No need to fear the dentist anymore. You can reduce the visits and make your dentist happy too. Brush with Tooth Soap®. Non-toxic, sustainable, organic and no need for a warning label. Created by a mom who has kids with no cavities. Get more information at:
http://www.toothsoap.com/special-offers
.
Toothsoap.com " I LOVE TOOTH SOAP
®
"
CASH Giveaway!
THREE one hundred dollar cash prizes up for grabs from Toothsoap.com as a thank you for your Friday Follow participation!
Contest Requirement: To be entered into the contest for three 100 dollar cash prizes please do the following:
* Please place the Toothsoap.com button on your blog post today for Friday Follow and also on your blog sidebar.

* During the week of March 26 - April 2, 2010 THREE winners will be chosen AT RANDOM to win a 100 dollar cash prize from TOOTHSOAP.COM
* Winners are selected by random.org using the Friday Follow Link System
* Winners selected MUST have the Toothsoap.com button on displayed prominently on both their Friday Follow post and blog sidebar to be eligible to win said prize.

* Winners will be notified by email and by blog comment by

team@toothsoap.com.

* Winners have 24 hours from notification date to claim 100 dollar cash prize via email.

* Cash prize is payable by Paypal.com or check from Vitality Products to winners (winners choice).

* Contest ends Friday, April 2, 2010 at the stroke of midnight.

* Open to US & Canada Residents